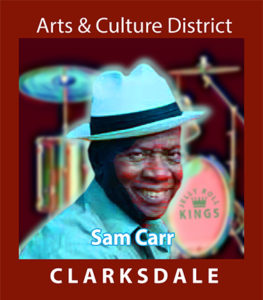 Sam Carr was an American blues drummer and the son of the acclaimed bluesman, Robert Nighthawk.  Of the numerous bands he formed or played in, he is best known as a member of the Clarksdale based band, The Jelly Roll Kings (with Big Jack Johnson and Frank Frost).  Carr's style was straightforward; he was mostly self-taught and was known for the incredible sounds he made from a minimal drum kit consisting of only a snare, bass drum, and a high-hat.
Carr's early life started in Arkansas before his family later moved to Dundee, MS., a half-hour outside of Clarksdale.  The family later moved to St. Louis where young Sam started playing bass.  He started his own band there, Little Sam Carr and the Blue Kings, where he eventually took up playing the drums.  At some point in the mid-1950's he met guitarist and harp player, Frank Frost, and the two of them evolved into acclaimed life-long musical partners.
The Jelly Roll Kings
By the early 1960's Carr and Frost moved back to Mississippi to join Big Jack Johnson in Clarksdale to form The Jelly Roll Kings whose performing career spanned a few decades.  They recorded their first album in 1962, "Hey Boss Man," and had hits with songs "Jelly Roll King" and "My Back Scratcher."
Among Sam's multiple music career accomplishments, he played with Ry Cooder and Frost on the soundtrack for the movie "Crossroads" and three recorded albums thereafter, and a PBS documentary.  Carr also played with  T-Model Ford, Lonnie Shields, Sonny Boy Williamson II, David "Honeyboy" Edwards, and Buddy Guy.
In his later years, Carr led his own group, the Delta Jukes, and he was featured in several documentaries about Mississippi blues, including The Blues: Feel Like Going Home, directed by Martin Scorsese.
Carr also received a Heritage Award from the State of Mississippi, awards from Living Blues magazine, and he is cited on Mississippi Blues Trail historical markers.
Sign location: Sunflower Ave.
Sign production: digital art by Richard Bolen
Source image: photographer unknown