MISSION STATEMENT
The Clarksdale Police Department is committed to protect, preserve and safeguard the constitutional and civil rights of all citizens through impartial and courteous law enforcement. We shall ensure public safety and provide quality service in partnership with our community with integrity and professionalism.
Sandra J. Williams, Police Chief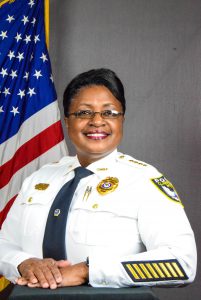 Chief Sandra Johnson Williams was appointed Chief of Police in Clarksdale, Mississippi on September 11, 2017.  Williams is an accomplished and highly dedicated law enforcement officer with over 26 years of experience, and she is the first woman to ever hold this position.
Chief Williams began her professional law enforcement career with the Vicksburg Police Department in August 1991.  There she served in a variety of positions, including Patrol, School Resource Officer, Crime Prevention Officer, Juvenile Investigator, Public Information Officer, and a Criminal Investigator. Chief Williams is also certified as a Criminal Investigator, G.R.E.A.T. Officer, and Computer Voice Stress Analyst.
Williams was promoted to Captain in 2013 and appointed to command the Criminal Investigative Division. She was the first female captain and the only female to ever command CID at the Vicksburg Police Department.
Prior to her appointment as Clarksdale Chief of Police, Chief Williams also commanded the Criminal Investigative Division for over four years where she was responsible for overseeing complex criminal investigations relating to major crimes, narcotics, crime scene, and juvenile investigations.
Chief Williams is a graduate of Jackson State University with a B.A. Degree in Criminal Justice and Correctional Services. She is currently an active reservist and has honorably served 16 years in the United States Navy Reserve.  She is assigned to a Defense Intelligence Unit located in Belle Chasse, LA.  Chief Williams is passionate in her role as a public servant; she understands and appreciates the importance of transparency, fairness and respectful community engagement.
The City of Clarksdale Police Department is always more visible during festivals and major events in the area to make sure our guests have a good time, stay safe, and to answer questions.
On an everyday basis, the Clarksdale PD enforces traffic laws, promotes public safety, responds to emergencies, and fights crime effectively. Crime in all categories has been on a steady decline for the past several years due to the professional law enforcement deployed in our community.
In addition to the Police Departments usual and customary duties,  the City of Clarksdale Chief of Police, her staff and officers also have a keen focus on the Clarksdale community at large.  The PD meets regularly with citizens to understand neighborhood concerns, they helpfully provide instruction in all areas of home and personal security, and they regularly engage in youth programs to help younger folks prepare for a satisfying future through various programs.  Service is a priority with the Clarksdale PD.
Physical Address:
121 Sunflower Avenue
Clarksdale, MS 38614
Mailing Address:
Post Office Box 940
Clarksdale, MS 38614
662.621.8154
sjwilliams@cityofclarksdale.org