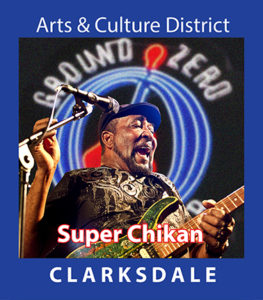 Super Chikan is a highly regarded contemporary Clarksdale bluesman. He is the nephew of former blues musician Big Jack Johnson.  A consummate entertainer with unique electrified skills, Chikan is a bona fide modern day exponent of raw Delta blues.
His first guitar? Of course…an acoustic two-stringer from Clarksdale's Salvation Army Store!
Chikan regularly performs at Clarksdale's Ground Zero Blues Club, where he is owner Morgan Freeman's favorite bluesman. In addition to his thriving blues music career, Chikan is also a respected artist. He plays on colorful homemade guitars which have become treasured artifacts and keepsakes for many of his fans and supporters.  He also has numerous recordings, "Blues Come Home to Roost," "What You See," "Shoot That Thang," and "Chickadelic" on Blues Town Records.