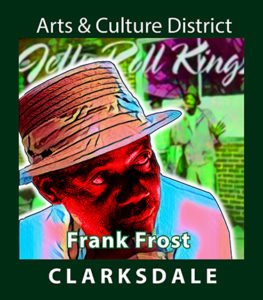 Frank Otis Frost was one of the most respected delta blues harmonica players that ever played around Clarksdale (he had good company: Sonny Boy Williamson II early on and later Charlie Musselwhite).  Frank was Arkansas born, and like most all other bluesmen, he began playing music in the family church.
Frost left Arkansas in his mid-teens for St. Louis where he became a guitar player and friends with drummer Sam Carr.  He played in an early group with Sam, and Sam's father Robert Nighthawk, which led to him actually playing with Sonny Boy Williamson II (Rice Miller). It was Sonny Boy who much helped Frank learn to master blues harmonica.
As a harp player, Frost had a keen repertoire of blues riffs and styles. He could wail in the upper register like Jimmy Reed, entertain harp blasts like Little Walter, and pretty much sound just like Sonny Boy at will.
Frost was a founding member of the electric blues band, The Jelly Roll Kings in the early '60's, with guitarist Big Jack Johnson and Sam Carr.  They attracted interest from Memphis record producer Sam Phillips of Sun Records.  Two of their hit recordings were "Hey Boss Man" and "My Back Scratcher."
Frost appeared in the films Deep Blues: A Musical Pilgrimage to the Crossroads (Directed by Martin Scorsese) and Crossroads with his friend Sam Carr.
Sign location: Sunflower Ave (near that of Sam Carr)
Sign production: digital art by Richard Bolen
Source image: photographer unknown