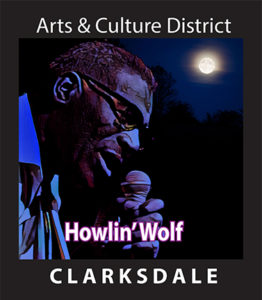 It was always a debate as to whom was the most captivating bluesman that ever performed, either it was Son House or Howlin' Wolf.  Nobody else ever came close.  And it's fitting, of course, that of Wolf's two great mentors, one of them was the man himself, Son House. Charlie Patton taught Wolf how the play the guitar; Son House did the rest.
Chester Arthur Burnett was born near West Point, MS. He was a blues tour de force who had "the soul of a man who never dies," said Sam Phillips, who also claimed that of all of the music artists who recorded at Sun Studios, Howlin' Wolf was the greatest.  Wolf performed with such prowess, critics claimed, that "no one would match his ability to rock the house down to its foundation."
Throughout the 1930's, Wolf traveled around the Delta on extended weekends. Often his performance circuit included Clarksdale. (Wolf's mother lived here, but she did not approve of him playing the "devil's music.")  He frequently played by himself but often with others too. Among those he played with were Charlie Patton, of course (until Patton passed away in 1934), Willie Brown, Rice Miller (Sonny Boy Williamson II), Son House (until he moved to Rochester, New York in 1943) and Robert Johnson.  Though not documented precisely, often they played in Clarksdale, especially when Robert lived here in 1932.
Howlin' Wolf produced three of the top songs of all time as cited by the Rock and Roll Hall of Fame: "Smokestack Lightnin,'" "Spoonful and "The Red Rooster." He also recorded "Back Door Man" and "Killing Floor," two more essential blues, and blues-rock standards. Rolling Stone magazine ranks him as 51st on its list of the "100 Greatest Artists of All Time." He was inducted into the Rock and Roll Hall of Fame in 1991.  He won a Grammy Hall of Fame award for "Smokestack Lightnin.'"  He also won 8 Blues Foundation Awards and was honored with a postage stamp in his name by the U.S. Postal Service in 1994.