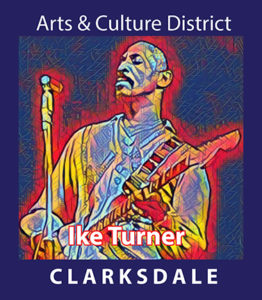 Clarksdale born Ike Turner was another tour de force that had a profound impact on the music industry.  Born in Clarksdale, Ike was a multi-talented musician, songwriter, producer and also an early pioneer of '50's rock and roll. He was known for his solo career and better known as Ike and Tina Turner.
Ike's father was a Baptist minister in Clarksdale.  Young Ike started playing piano and guitar before he was ten years old, and he considered pioneering blues piano player, Pinetop Perkins his mentor. Ike created his band, the Kings of Rhythm when only in his teens, and The Kings of Rhythm name became his backing band for life.
Ike and Tina Turner were inducted into the Rock & Roll Hall of Fame in 1991. Turner was nominated for a Grammy in 2001 for his album Here & Now. He won a solo Grammy for his album Risin' With the Blues in 2006. In 2010 he was officially recognized by Clarksdale with two historic markers honoring his musical legacy. Ike also has a star on the St. Louis Walk of Fame.