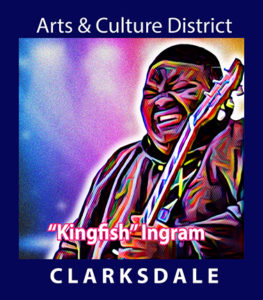 Christone "Kingfish" Ingram is a genuine teenage blues guitar prodigy who has already established a national following out of Clarksdale. Born here, and like so many blues players who preceded him, his early influences began with gospel music in the church.  He was also inspired, learned, and excelled in the after-school music education programs at Clarksdale's Delta Blues Museum.
Interestingly, Kingfish is the cousin of legendary Mississippi country music singer, Charlie Pride.  By age six he began playing drums, then bass by the time he was 9, and lead guitar at 11.  By age 14 he was reaching mastery of his instruments; then he added singing lead vocals into his impressive mix.
Christone will tell you that his influences are the blues masters. He cites them off with reverence: Robert Johnson, Elmore James, Muddy Waters, Lightnin' Hopkins, B.B. King, Albert King, Big Jack Johnson, Albert Collins, Freddie King, Lefty Dizz, Buddy Guy, and rock legends Jimi Hendrix, Prince, Eric Gales, and Eric Johnson just to name a few!  He has already taken the stage with household names such as Bob Margolin, Eric Gales, Rick Derringer, Guitar Shorty, Buddy Guy and more. He routinely tours festivals and venues all over the U.S. and has performed in eight different countries!
Kingfish has also been a guest on the Rachael Ray Show and the Steve Harvey Show!  He also performed at The White House for First Lady Michelle Obama!
As important as anything about Kingfish, perhaps, is when one catches him playing at any of the various places in Clarksdale where one can see and hear the blues 7 nights a week, young and impressive Christone gives a blues performance today… that is as good as it ever used to be!
Sign location:  E. 3rd St (near Mama's House of Pancakes)
Sign production:  digital art by Richard Bolen
Source image:  photograph by Elizabeth Campbell (via Waterfront Blues Festival in Portland, OR)