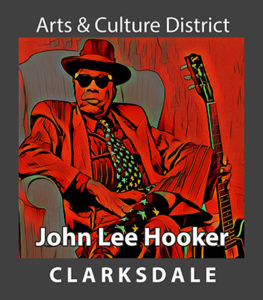 John Lee Hooker is one of Clarksdale's most important blues icons.  Born here, he was the son of a sharecropper and a Baptist preacher; church spirituals were his earliest music exposure. His earliest musical influences came out of his family at about the time that the first Delta blues was ever recorded.
A year older than Muddy Waters, John Lee honed his Clarksdale musical roots into a music career in Memphis in his mid-teens. He also worked odd jobs on Beale Street in Memphis, TN.  Eventually, his music matured into John Lee's blend of talking blues, North Mississippi Hill country blues and, boogie-woogie.
John Lee left for Detroit in 1943 (the same year that Muddy Waters left Clarksdale for Chicago). There he released, "Boogie Chillen," his first hit in 1948 (the same year Muddy hit with "I Cant' Be Satisfied.")  It was the largest selling race record in 1949. Hooker's other most notable songs are "Crawling King Snake", "Dimples", "Boom Boom" and "One Bourbon, One Scotch, and One Beer." Toward the end of his career, he had a huge hit with the album, The Healer.
Hooker has a star on the Hollywood Walk of Fame. He was a 1991 Rock and Roll Hall of Fame inductee. "Boogie Chillen" and "Boom Boom" are in the Rock and Roll Hall of Fame list of songs that shaped rock and roll.  "Boogie Chillen" is also included as one of the songs of the Century.  In 2000, Hooker was awarded the Grammy Lifetime Achievement Award.  John Lee also has a street named after him in the historic Arts & Culture District in downtown Clarksdale.