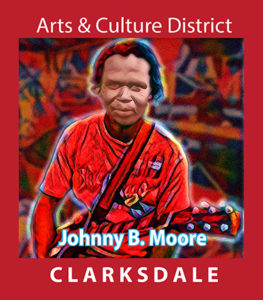 Clarksdale born Johnny B. Moore is an electric blues guitarist, singer, and songwriter.  After leaving the Delta for Chicago, he became most known as a guitarist for Koko Taylor.  Moore's greatest electric blues guitar influences are Jimmy Reed and Muddy Waters; his style comes with an immense Delta tradition.
Like most all musicians that came out of Clarksdale, Johnny's early music influence was the church.  His father was a Baptist minister, and he started playing guitar when he was only 7 years old.  The first song young Johnny took was John Lee Hooker's "Boogie Chillen," and he was later much influenced in Chicago by Magic Sam.
Moore first played gospel in Clarksdale, and later in Chicago with the group, The Gospel Keys.  After moving to Chicago upon the passing of his mother, Johnny learned to read music in high school.  His music education later continued as a student for the great Jimmy Reed.
In 1975 he became lead guitarist in Koko Taylor's backing band, the Blues Machine.  While still a member of that terrific stage show, that led to other opportunities for Johnny; he also toured with Willie Dixon as well.
Johnny has several solo records as well, among those are "Hard Times,"  "Born in Clarksdale, Mississippi," "Live at Blue Chicago" and  "Acoustic Blue Chicago."
Sign location: E. 3rd St.
Sign production: digital art by Richard Bolen
Source image: photographer unknown (via Earwig Music)