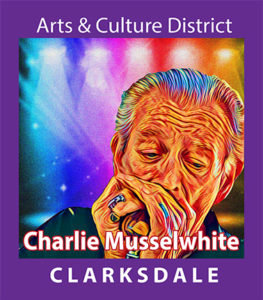 Charlie Musselwhite first experienced Clarksdale as a child, and to a certain extent that included seeing the music art and culture of famous Issaquena Ave. as it used to be. Since then, Charlie has become a consistent performer, helpful collaborative expert, advocate, and friend of all music things Clarksdale.
Of native American heritage (Choctaw or Cherokee), Charles Douglas Musselwhite was born in Kosciusko, MS. Both of his parents had musical talent. Young Charlie moved to Memphis as a toddler, and by his teens, he was captivated by Memphis rockabilly, western swing, electric blues and early rock and roll. Elvis, Jerry Lee Lewis, Johnny Cash, Gus Cannon and Furry Lewis were some of Charlie's important early influences.
In true bluesman tradition, Musselwhite left Memphis for a factory job in Chicago. There his music education centered on the South Side, including meeting Muddy Waters, Junior Wells, Sonny Boy Williamson, Buddy Guy, Howlin' Wolf, and Little Walter. He would often hang at Mr. Joe's bar with Chicago's blues pioneers. Gradually Charlie became locally well known, and among others, Big Joe Williams, and John Lee Hooker out of Detriot became lifelong friends.
Musselwhite eventually formed his own blues band and found significant success with Paul Butterfield. His album Stand Back! Here Comes Charley Musselwhite's Southside Band also found meaningful critical success, which led him to relocate to San Francisco to become part of the important emerging music culture there.  He even convinced his friend John Lee to move to San Francisco too.
As his important continuing career has evolved, Charlie has made a score of solo albums, and played with and become friends of the most cherished blues music artists in the world, some of which are Bonnie Raitt, Tom Waits, B.B. King, Jimmie Vaughan, Buddy Guy, Bo Diddley, Eric Clapton, Dr. John and Koko Taylor.  He is a multiple Grammy Award winner, has won multiple W.C. Handy Awards, been elected to the Blues Hall of Fame, won numerous Festival awards and has received The Mississippi Governor's Award for Excellence in the Arts.
Charlie was a supporting star in the motion picture Blues Brothers 2000 and he was reportedly the inspiration for the character played by Dan Aykroyd in all of the Blues Brothers films
Musselwhite's remarkable career continues to entertain, evolve and expand.  He has ventured into Afro-Cuban music, recorded the blues in Norway, been featured in both Bo Diddley and Hubert Sumlin tributes. He has toured with Hot Tuna, Cyndi Lauper, been a best instrumentalist award winner at the Blues Music Awards, jammed on stage with Mick Jagger and recorded with INXS, Tom Waits, Vassar Clements, The Blind Boys of Alabama, Cat Stevens and Ben Harper, who Charlie played with at the White House before The First Lady and President Obama.
Today, all the details of Musselwhite's career are handled by his wife, Henri. He entertainment is constantly in demand.  About his musical success, Charlie believes it came from finding a comfortable style, he humbly says,  "I only know one tune, and I play it faster or slower, or I change the key, but it's just the one tune I've ever played in my life. It's all I know."
Sign location:  E. 3rd St. (between Yazoo and Issaquena Aves.)
Sign production: digital art by Richard Bolen
Source image: photographer unknown (please let us know if you know)