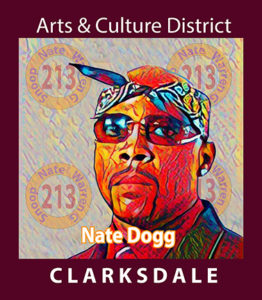 When asked today about Clarksdale's blues and rock n' roll legacy, some of our youth today will tell you that hip-hop is today's blues.  While their music structure is certainly different, the attitude and underlying idea of hip-hop and the blues is similar: music in search of a way forward out of a difficult life.
Considering Clarksdale's vast music history, it makes sense that a tremendously important hip-hop pioneer would come out of  Clarksdale too.  Better known by his stage name Nate Dogg, Nathaniel Hale was a rapper, singer, writer, and actor.  He helped establish the ground-floor of West Coast hip-hop and was especially noted for his early rap trio 213 which included among others his friends Snoop Dogg and Warren G.
Nate Dogg was born in Clarksdale.  He spent his formative years here and began singing in the Life Line Baptist Church, where his father was a pastor and his mother led the choir.  Nate moved to Long Beach, CA in his mid-teens, where he also sang in church; he also became early friends with both Snoop Dogg and Warren G.
After finishing a stint in the U.S. Marines as an ammunition specialist, he returned to Long Beach and formed the rap group 213 with Snoop and Warren.  Their demo was heard by Dr. Dre, and 213 became part of the beginning culture of Death Row Records.
In addition to his 213 group members, Nate also had a solo career as well.  Among those he performed, recorded and collaborated with were  Dr. Dre, Eminem, Tupac Shakur, 50 Cent, Mos Def,  and Ludacris.
Along his way as an early "gangsta" rapper, arrests and legal issues followed, almost all of which resulted in acquittals.  He served probation on illegal possession of a firearm and pleaded guilty to a drug possession charge as well.
As his career matured, Nate also developed serious health issues, which caused his early loss from multiple strokes in 2011.  His Long Beach funeral was heavily attended by the most established artists in the West Coast hip-hop world and was covered by the national news media.
During his career, Nate was nominated for four Grammy Awards, all within the rap genre, all of which were collaborations with either Eminem, Ludacris, Dr. Dre, Snoop Dogg or Warren G.
Sign location:  Issaquena Ave (near historic Clarksdale Bus Station)
Sign production: digital art by Richard Bolen
Source image: photographer Frazer Harrison via The Hollywood Reporter (image available at Getty Images)