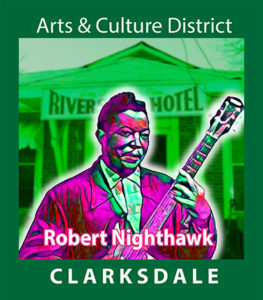 Robert Lee McCollum was an early influential blues guitarist who was born in Helena, Arkansas, a short distance north and across the Mississippi River from Clarksdale. He was the father of Clarksdale musician, Sam Carr.
Already a musician at an early age, Robert moved to Memphis, where he was first associated with the Memphis Jug Band. There he was particularly influenced by slide guitarist, Houston Stackhouse, which led to Nighthawks notable career as an acclaimed electric slide guitar player.
Rarely ever staying in one place for too long, Robert spent time in St. Louis, Chicago, and later somewhat settled in Friars Point, MS, just outside of Clarksdale. Along the way, he played with Sonny Boy Williamson I (John Curtis Williamson), Henry Townsend, Big Joe Williams and others.
Particularly popular were Robert's well-known radio broadcasts that came out of KFFA in Helena and WROX in Clarksdale. Nighthawk also sang with attraction, but it was his slide guitar playing– with a piece of brass sliding across the frets, where Robert truly shined.
Robert often stayed in Clarksdale's Riverside Hotel. His guitar mastery helped a generation of artists including Elmore James, and particularly Earl Hooker. B. B. King, also influenced by Nighthawk, claimed that Robert was one of his top-ten best guitarists ever.
Nighthawk was also an early friend and guitar prodigy of Muddy Waters. They first met in Clarksdale, where he played at Muddy's first wedding in 1932, a party Muddy recollected as so much rowdy fun that his floor collapsed. (1932 was the same year that Robert Johnson lived in Clarksdale, and both of these blues master Roberts knew, and likely played with each other from time to time.)
Nighthawk has a blues historical marker in Friars Point, MS. He recorded for numerous record labels, including Chess, Victor/Bluebird, and Aristocrat.
Sign location: Sunflower Ave.
Sign production: digital art by Richard Bolen
Source image: photographer unknown