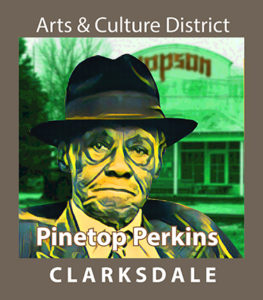 Joeseph William "Pinetop" Perkins was a masterful blues piano player.  He played in Muddy Waters band and with many of the most influential blues and rock and roll performers in American history. He was born in the Mississippi Delta in Belzoni in 1913.  He was the same age as Muddy, a year younger than John Lee Hooker, and two years younger than Robert Johnson.
When Pinetop first moved to Clarksdale is unknown, but it was prior to 1944.  It was in that year that the first cotton crop was planted, harvested, and baled by machine. That was at Hopson Plantation on the outskirts of Clarksdale, and Pinetop supported his burgeoning music career as a tractor driver there at the time.
Pinetop was much immersed in the blues as it evolved in Clarksdale (he was 16 years old when Son House first recorded).  As an early piano player, Pinetop had a distant relationship with the first rock and roll song; Pinetop was Ike Turner's mentor.
Pinetop was honored with a Grammy Lifetime Achievement Award.  He is a member of the Blues Hall of Fame.  He won a Grammy at 97 years old (the oldest Grammy winner ever) for the blues album, Joined at the Hip, which he also performed with Muddy Waters band drummer, Willie "Big Eyes" Smith.