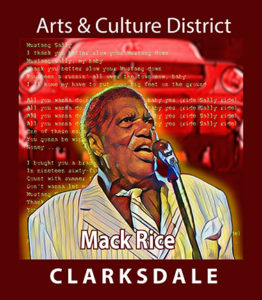 Mack Rice was a Clarksdale born songwriter and singer.  Often called "Sir Mack Rice," he is best known for writing "Mustang Sally" and "Respect Yourself"(with Luther Ingram).
Rice grew up in Clarksdale and moved to Detroit when he was seventeen.  One of his first bands included members Wilson Pickett, Eddie Floyd and Joe Stubbs.  His biggest successes came later as a songwriter for artists on Stax and Motown records.
Mack had initial record chart success as a solo artist with "Mustang Sally." but his song is best known by his friend, Wilson Pickett.  He also had soul music chart success with his song "Coal Man."
Rice's song "Respect Yourself" was a major inspirational hit for the Staple Singers.  The song personified the self-empower movement for African-Americans during the post-civil right movement in the 1970's.  Some of his other songs include "Cheaper to Keep Her," "Money Talks," "Cold Women With Warm Hearts,"Do the Funky Penguin," "Pt. 1," and "It Sho Ain't Me."
Among the artists who recorded Mack Rice songs are the Staple Singers, Ike and Tina Turner, Albert King, Johnnie Taylor, Shirley Brown, Rufus Thomas, Etta James, Billy Eckstine, Eddie Floyd, Buddy Guy, The Rascals, The Kingsmen, Wilson Pickett, Albert Collins, Busta Rhymes, Lynyrd Skynyrd, Otis Clay and The Blues Brothers (in Blues Brothers 2000).