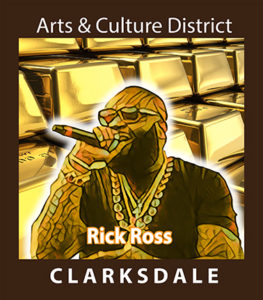 William Leonard Roberts II is another Clarksdale born musical artist who has made it big-time on the world stage.  Known professionally as Rick Ross, he is a contemporary hip-hop artist, rapper, and business development entrepreneur.
If hip-hop is today's blues, as some of Clarksdale's youth is keen to claim, Rick Ross has established a huge national following.  He owns his own record labels; he was the first artist to sign with Ciroc Entertainment; he has been named by MTV as the hottest MC in the country and is consistently one of the top dollar grossing talents in the U.S. music industry.
Ross's family moved from Clarksdale to Florida, where Rick got his start.  He went to Albany State University on a college football scholarship and later became a correctional law enforcement officer in South Florida.  His first music debut was made under the name Teflon Da Don, and his first recorded song was on an album for DreamWorks ("Ain't Shhh to Discuss").  Based on that success, Rick became a Slip-n-Slide Records artist, which introduced him to the Def Jam music empire.  His debut album, "Port of Miami," reached the top of the Billboard 200 album chart; it was a huge rap record that was certified gold by the Recording Industry Association of America.  The album Trilla followed, which also found the top of the Billboard 200 as well.
In 2009 Rick also founded Maybach Music Group, his own record label, where he has released a half-dozen albums since creating his record company, all of which have found wide commercial success.  He has also found similar success from other artists he has signed to his label, Wale and Meek Mill are among those.
Of the ten plus solo albums Rick has released, he has been nominated for four Grammy Awards.  He has appeared both in motion pictures and television.  Throughout his remarkable career, Ross has collaborated with the most successful hip-hop artists in the world, these include Dr. Dre, Jay-Z, Diddy, Kanye West, Usher, DJ Khaled, L.A. Reid and more.
Rick has also found notable success beyond the music industry as a business entrepreneur as well.  For example, Rick currently owns and operates more than 20 Wingstop restaurants.
Sign location:  E. 3rd St. (in front of Clarksdale's historic old Greyhound Bus Station)
Sign production:  digital art by Richard Bolen
Source image:  photograph by Larry Hulst (available via Michael Ochs Archives/Getty Images)