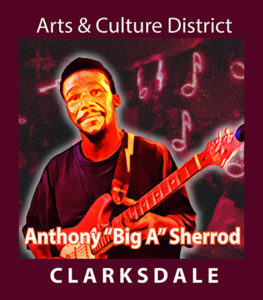 "Big A" is a current bluesman that performs regularly in town.  His natural showmanship that moves and plays with tremendous fun and passion personifies that one can hear authentic music in Clarksdale today… that is as good as it ever was historically.  At present Anthony has a weekly residence at Red's Lounge, the famous authentic juke joint in Clarksdale's historic downtown Arts & Culture District.
Like his deep delta blues forefathers,  young Anthony's introduction to music was found in the church.  His father, E.J. Johnson, was a gospel singer that performed with The Golden Stars gospel group.  By age 6, Anthony started playing, and he hasn't stopped since.  He is professionally proficient on bass and guitar,  and he also plays drums, keyboards, and is the lead vocalist in his current band, Big A and the Allstars.
Anthony is also a wonderful example of the success of the blues music education after-school program at the Delta Blues Museum.   There Anthony studied under bluesman, Mr. Johnnie Billington, where he not only developed a keen appreciation for the blues and it's historic Clarksdale legacy, but he also learned to play and craft his music through Billington's experienced mastery, where he tutored young Anthony with a strict practice schedule of both music development… and a focus on learning important life lessons as well.
As a young bass player, Anthony took the stage with Buddy Guy in Clarksdale.  He regularly played at Delta Blues Museum events and held a Thursday gig at an important former Clarksdale venue, Sarah's Kitchen.  He has also appeared in a documentary film, played overseas, and regularly performs throughout the region and at festivals in the Mississippi Delta and across the country.
Sign location:  Sunflower Ave. (near Red's Lounge)
Sign production: digital art by Richard Bolen
Source image: photograph possibly by Dave and Merry Jo Brinkley