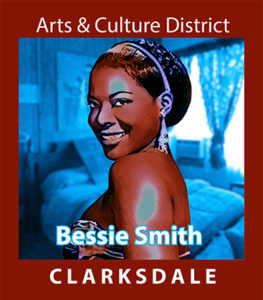 Bessie Smith did not come from Clarksdale, but she died here in 1937.  Memorialized in a one-act play, The Death of Bessie Smith by playwright Edward Albee, she was in a tragic automobile accident outside of Clarksdale, and she passed away at the G. T. Thomas Afro-American Hospital, which in 1943 became Clarksdale's famous hotel for the blues, The Riverside Hotel.
Later the Riverside Hotel was the site where the first rock 'n' roll song, "Rocket 88," was rehearsed, and musicians such as Robert Nighthawk, Sonny Boy Williamson II, Howlin' Wolf, and Duke Ellington often stayed there.
It has not been documented that Bessie Smith played here, or how often she came here.  She was in route to perform at a tent show the next day after her accident outside of Clarksdale.  Because of her statue in blues lore, and her passing here, she forever became part of Clarksdale's music legacy.
Three of Bessie Smith's songs are in the Grammy Hall of Fame "Downhearted Blues," "St. Louis Blues," and "Empty Bed Blues." "Downhearted Blues" is cited as a song of the century by the Recording Industry of America and the National Endowment of the Arts.  It is in the Rock and Roll Hall of Fame as one of the 500 songs that shaped rock 'n' roll.
Bessie won a Grammy Lifetime Achievement Award in 1989, she was inducted as an early influence in the Rock and Roll Hall of Fame in 1989 as well, the Big Band and Jazz Hall of Fame in 1981 and the Blues Hall of Fame in 1980.