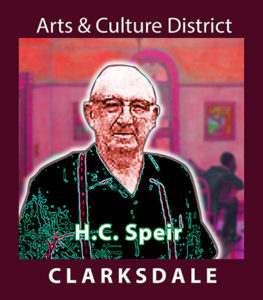 H. C. Speir was not from Clarksdale, nor has it been documented that he ever spent much time here, if any.  What he did though was of particular importance; he formed the foundation of Clarksdale's music history.  Along his way, Speir became known as the godfather of the Delta blues.
Speir lived in Jackson and had a mercantile store in the State Capitol, which was known for selling both furniture and records on Farish Street in one of Jackson's black neighborhoods.  Speir became an early talent broker in his store as well, which made sense due to a number of factors.
The first affordable portable phonograph, the Edison, appeared around 1920.  This marked the first time most of the public could afford to listen to music without having to see it being performed in person.  The Edison played 78 rpm records, and this marked the beginning of the record industry in the United States; without an affordable player and affordable records, there was no record industry.  The Edison was also housed in a piece of furniture.  in the beginning, Edison had a contract with a furniture factory in Grafton, Wisconsin which assembled its affordable phonograph.  Amid this time an executive at the Grafton factory thought that if they had a recording studio in their factory, more records could be produced, which would, therefore, create more public demand for records, and thus the Grafton factory could sell more furniture.  He was right, and H.C. Speir sold the Edison in his store in Jackson, and that is how Speir became known as a man who could help get an early artist recorded in Mississippi.
Because Speir also sold records in addition to players in his store, he became known as a resource for most of the early record labels at that time as well.  This was particularly surprising after the sales success of "Crazy Blues" by Mamie Smith, which established a market for race records in the then-fledgling record industry (Okeh, Victor, Gennett, Columbia, Vocalion, Decca, and Paramount were the more well-known labels that used Speir's talent-spotting acumen).  All of these factors led H.C. Speir to become responsible for launching the recording careers of most of the great blues pioneers in the '20's and '30's.  Some became the first Clarksdale bluesmen ever recorded, and without Speir, many of Mississippi's greats might have never been known.  Among those who came to Speir and found help to begin their record career were:  Charlie Patton, Tommy Johnson, Willie Brown, Son House, Robert Johnson, Skip James, Ishman Bracey, the Mississippi Sheiks, Geeshie Wiley and more.
Speir retired as a talent scout by the mid-'30's, likely shortly after he led Robert Johnson to record in San Antonio and Dallas, and a fire in the early '40's ended his store, before passing on in 1972.  Posthumously he was inducted into the Blues Hall of Fame in 2005.
Sign location:  200 block of Delta Ave.
Sign production: digital art by Richard Bolen
Source image: photographer unknown