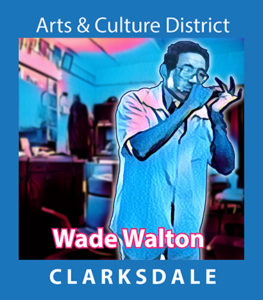 Wade Walton was a cherished Clarkdale barber and more.  A blues musician and local civil rights leader, Walton's "Big Six" Barbershop was a gathering place for his friends, many of whom were famous musicians, colleagues, and the Clarksdale public at large.
Walton became known as the barber to the blues because of his clients, and that the "Big Six" was located on the previous site of W.C. Handy's house.  Wade played the harmonica, the guitar, and most famously the razor strop, which he played and improvised the blues by striking his razor in rhythm against the leather.
Walton played in the Kings of Rhythm with Ike Turner but never quit his day job at the barbershop.  Among his regular customers were Howlin' Wolf, Muddy Waters, Sonny Boy Williamson II, and the beat poet and activist Allen Ginsberg.
Walton was also a local NAACP leader during the civil rights movement in the early 1960s.  One of the unfortunate outcomes of Wade's important social leadership was his barbershop was bombed in that difficult but necessary era.
He appears in Bill Ferris's 1975 documentary about the Delta blues, Give My Poor Heart Ease, and also in Robert Mugge's documentary film Deep Blues: A Musical Pilgrimage to the Crossroads.  Walton also has three record albums, The Blues of Wade Walton, Barbershop Rhythm and Shake 'Em On Down.