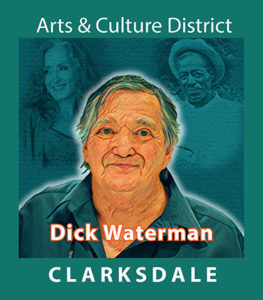 Dick Waterman is a writer, artist manager, music career developer, talent agent, and an acclaimed blues photographer.  His highly respected music business career became even more remarkable because of Dick's unique artistic talent as well.  Known for being impeccably fair, honest, and his devotion to the artists he represented, Waterman stood especially tall in the often tough and testy to transcend music entertainment business.
Born in Plymouth, Massachusetts, Dick's connection to Clarksdale has been important and consistent over time. Most significant was that he found Son House in 1964, which was particularly remarkable.  Son moved from the Mississippi Delta to Rochester, New York in 1943.  There Son found work in a foundry, then for the New York Central railroad for nearly two decades.  By the early 1960's Waterman was a talented young sportswriter in Boston.  He was also a passionate blues fan.  Spurred on and enthused by two other blues enthusiast friends, Phil Spano and Nick Perls, the three of them decided on a spirited quest to find Son House, if he might still be alive.  Their quest led them first to Clarksdale and the Delta, which was during the particularly violent and dangerous Freedom Summer of African American voter registration activities in 1964.  Traveling in a hot cramped Volkswagen beetle, undeterred and relentless nevertheless, Dick and his friends tracked lead after lead, which uncovered the possibility that Son might still be living in Rochester.  There they found the former bluesman unemployed with not a guitar nor a telephone.  This rediscovery became national news, and soon thereafter both Dick and Son had the beginning of an important new career.
Waterman moved to Oxford, MS in the '80's and his connection to Clarksdale has been consistent ever since.  He has been a helpful historian in Clarksdale's emerging blues scene; he frequently gives talks, sits on panels, attends events, festivals and lends his expertise when asked or needed.
Waterman studied journalism at Boston University.   He became a writer for Broadside Magazine and later became its feature editor. In 1963 he began to promote local shows with blues artists, including Mississippi John Hurt and Booker "Bukka" White.  Following what started after he found Son House, Waterman created  Avalon Productions, the first booking agency specifically formed to represent blues artists.   Artists Dick represented at his company included House, of course, Bukka White, Mississippi John Hurt, Skip James,  "Lightnin'" Hopkins,  Arthur "Big Boy" Crudup,  Junior Wells,  J. B. Hutto, and many others.  He also became involved in the folk and rock scene in the Boston area, which led Dick and Bonnie Raitt to find each other, and Dick thereafter managed and helped develop her important career for many years.
While in Oxford Dick has concentrated on his photography career;  his vast catalog of blues artist and performance photography is legendary.  It also includes folk, jazz and rock artists such as Joan Baez, Bob Dylan, Eric Clapton and The Rolling Stones.  His book Between Midnight and Day:  The Last Unpublished Blues Archive contains many of his important, most recognized photographs.
Dick was also helpful in placing the headstone on the grave of Mississippi Fred McDowell, which came from funding from Bonnie through the Mt. Zion Memorial Fund.  Both he and Bonnie dedicated McDowell's memorial in a heartfelt tribute in 1993.
In 2000, Dick was inducted into the Blues Hall of Fame, as one of the first non-performers to be so honored.  He has been honored with a Brass Note Memorial on Beale Street in Memphis, and he is featured in the music documentary Two Trains Running about the finding of Son House and Bentonia, MS bluesman Skip James.
Sign location: E. 3rd St.
Sign production: digital art by Richard Bolen
Source image:  photographer unknown (via a Mike Kappus Facebook post)