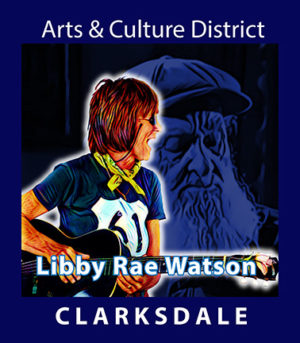 Libby Rae Watson is a current blueswoman who can frequently be found performing in Clarksdale.  From Pascagoula, Libby's connection here is over time, and she has become an integral part of today's scene in the birthplace of the blues and rock n' roll.  Most often she plays at the Juke Joint Chapel at the Shack Up Inn, at Shacksdale and Cat Head Blues Store.  She also regularly plays at the Juke Joint Festival and other widely attended Clarksdale shows and events.  An experienced, accomplished performer, her singing, and guitar playing come with deep talent, but it may be her cheerful attitude and inviting smile that leads most to her captivating stage presence and comforting showmanship.  She embodies a true love of what one is doing.
Libby grew up a few blocks from the Gulf of Mexico. She started playing guitar as a kid, and a songbook she found in a local music store put her on her music career path; it was full of songs and photos of Son House, Mississippi John Hurt, Elizabeth Cotton and more.  Truly it was a childhood beginning of a lifelong affair with the deep blues of Mississippi, with those who made it, and Mississippi's country arts and culture.
Libby is known to say, "I didn't plan to go 'find' the Blues. The Blues found me," and the blues led to meet many of the blues artists she was so fond of, two of which became lifelong friends.   She found Big Joe Williams in his car under a shade tree near his house, and she met Sam Chatmon, the last surviving member of the Mississippi Sheiks, who became Libby's greatest inspiration and mentor.
Among Libby's music accomplishments and awards, she won 2nd place in the Mississippi Delta Blues Society of Indianola Blues Challenge in 2013, and she won it in 2014 and 2015.  She was a 2014 and 2015 semi-finalist in the International Blues Challenge in Memphis (IBC).  She was the 2016 Musician of the Year by the Mississippi Delta Blues Society of Indiana.  She regularly plays festivals and music venues throughout the South and Canada, including the New Orleans Jazz and Heritage Festival, the King Biscuit Blues Festival, Clarksdale's Juke Joint Festival, and more. In 2013, she toured the Maritimes of Canada with famed Canadian bluesman, Doc MacLean.
For the last three years, she has toured with fellow musicians Rambling Steve Gardner, Bill Steber, and Wes Lee as the Jericho Road Show, which is a stunning show and rousing performance to behold.
Sign location: Sunflower Ave.
Sign production:  digital art by Richard Bolen
Source image:  photograph via Libby Rae website