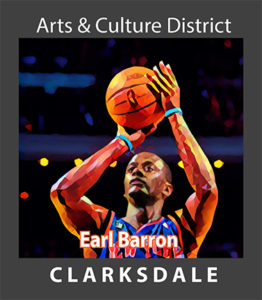 Clarksdale born and a graduate of Clarksdale High School, Earl Barron is a career professional basketball player.
At 7'0″, Earl was a center at the University of Memphis.  He started his pro career playing in Turkey, then later joined the NBA D-league, which led to his first National Basketball Association trials with the Orlando Magic.
He has played for the New York Knicks, the Phoenix Suns, the Milwaukee Bucks, the Portland Trailblazers, Golden State Warriors, and Washington Wizards, and his greatest career achievement was with the Miami Heat for three years, where he won an NBA Championship ring in 2006.
Earl is also a well-known poker player and has played in the World Series of Poker.
Sign location:  200 block of Issaquena Ave.
Sign Production: digital art by Richard Bolen
Source image: photographer unknown