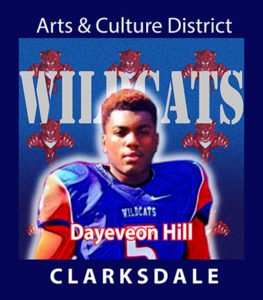 Daye 5 or "Smooth" as he was often called by his teammates was a standout football player and team captain at Clarksdale High School.  A senior quarterback on his way to a football scholarship at Pearl River Community College, Daye's promising young life was cut short before graduation by senseless gun violence at the hand of another local high school student.
Dayeveon was much loved and respected by both his fellow students, teammates and his family.  His locker stands in memorial to Daye's leadership and contributions, and his mother, Lekitha Hill, has established the Daye 5 Foundation in his honor.
The Daye 5 Foundation is a non-profit that both preserves Daye's legacy and establishes help for others.  It grants $1,000 scholarships to graduating high school seniors who want to attend college.  "I want to give kids the opportunity to feel like they're worth it," says Daye's mother.  The foundation is for "kids that don't have the finances or things to start off in college." "Drop the guns and pick up the books," a Daye 5 Foundation supporter adds.
Sign location:  Corner of E. 3rd St. and Issaquena
Sign Production: digital art by Richard Bolen
Source image: photographer unknown