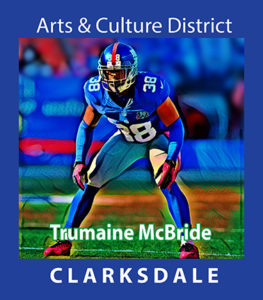 Trumaine McBride was a National Football league cornerback. He played at Clarksdale High School where he was selected All-America by PrepStar magazine.  After playing college ball at the University of Mississippi, Trumaine was drafted by the Chicago Bears in 2007.
McBride earned a starting defensive back role in his first year with the Bears.  After two years in Chicago, injury lead him to a contract with the Arizona Cardinals.  He also played with Jacksonville before signing with the New York Giants, where he played for two more years.
Trumaine is credited with 152 tackles, 28 pass deflections, 7 interceptions, 5 forced fumbles, 1 touchdown, and 1 sack throughout his professional football career.
Sign location:  Corner of Issaquena Ave. and E. 3rd St.
Sign Production: digital art by Richard Bolen
Source image: photographer unknown (via Trumaine McBride on Twitter)