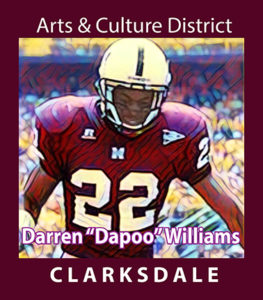 Darren Williams was a five-star football player at Clarksdale High School.  Called "Dapoo" by family and friends, he had a promising athletic career before his young life was cut short by gun violence in Atlanta, GA.
Dapoo came from a family of athletes. Called a pleasure to coach, Darren's on-field talents took notice early on when he was at Clarksdale's Oakhurst Middle School.  By the time he got to high school, his on-field abilities were well known.
"Dapoo" led the Clarksdale Wildcats to the school's third state championship in five years during 2001 – his senior season.  He played college ball at Mississippi State University as a defensive back where he lettered for three years. He transferred to Jacksonville State in Alabama where he finished his college career.  At the time of his death, he had signed a contract to play Arena Football.  He also had a try-out with the Miami Dolphins of the National Football League.
He was called an "exceptionally fine young man" by his high school principal, and he was very popular and much loved throughout the Clarksdale community.
Sign location:   E. 3rd St.
Sign Production: digital art by Richard Bolen
Source image: photographer unknown