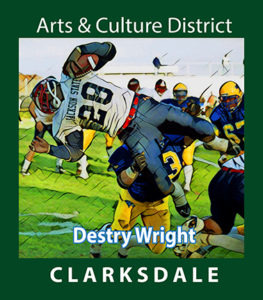 Clarksdale born Destry "D-Train" Wright is a retired professional football player.
After playing high school ball in Clarksdale, D-train went to Jackson State where he set the team's three-season career rushing record of 4,020 yards, running 1,614 yards, and 12 touchdowns in his last season there.  He also held the record as the Southwestern Athletic Conference's all-time leading rusher.
As an undrafted free agent, Wright made the Pittsburgh Steelers team where he officially played one season.  Although, he was not able to play any regular-season games due to an injury suffered in a pre-season game against the Dallas Cowboys on July 30, 2000. He dislocated his right ankle and broke his right leg in an injury that gained widespread publicity after a photograph showed both of Wright's feet pointing in two different directions.  Unfortunately, this career-ending injury is still referred to as one of the most gruesome injuries in NFL history.
Sign location:   E. 3rd St.
Sign Production: digital art by Richard Bolen
Source image: photographer unknown (stock image available via Alamy Stock Photo)