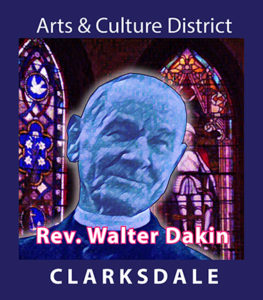 Reverend Walter Edwin Dakin was the rector of St. George's Episcopal Church in Clarksdale from 1915 to 1931.  He was also the grandfather of Tom "Tennessee" Williams.  As Williams's surrogate father, Dakin's influence on young Tom was foundational to his acclaimed career as one of American's great writers.  He spent his early childhood in Clarksdale with his grandfather, and many of the people, characters, and places about Clarksdale can be found in Tennessee's greatest works.
Reverend Dakin was kind.  From early on he had a keen interest in the written word.  With his religious background, he was particularly board minded.  Among his Bible stories were recitations from Milton, Homer, Shakespeare, and Edgar Allen Poe.
In addition to his appreciation of literature and open-mindedness, Rev. Dakin also transferred his lifelong love of travel and experience unto his grandson, which included Tennessee's first introduction to Broadway theater in New York.  In his later years, the retired Rev. Dakin lived in a house that Tennessee purchased for him near his grandson's house in Key West, Florida.
Sign location:  100 block of Sharkey (next to the sign of his grandson).
Sign Production:  digital art by Richard Bolen
Source image: photographer unknown