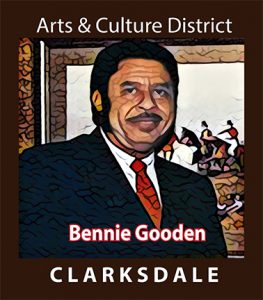 Mr. Gooden was born in Clarksdale, MS.  Both a social and a business leader, he was a life time member of the NAACP and many other organizations, and among his many contributions in business, he was the Regional Director of Southland Management Corporation, the housing agency that managed more than 70 developments in Mississippi, Arkansas and Louisiana. Bennie's efforts there managed some 6,500 affordable housing units to help people in need.
Gooden's family can be traced to Clarksdale back as far as the late 1800s, when both the
Goodens and the Stones (Bennie's mother's maiden name) moved here.  Bennie went to high school at Higgins in Clarksdale.  He graduated from Jackson State University and was a former teacher and the Dean of Men at Coahoma Community College.  When asked why he became a teacher, Gooden wanted to contribute because roles were limited for blacks in our area.
Bennie also made numerous trips on behalf of others to the nation's capitol, which included visiting with President Jimmy Carter.  He also taught at Coahoma Agricultural High School, and he left there to lead Coahoma Opportunities (COI) through it's beginning into the evolution and formation of Head Start here in Clarksdale. At COI, Gooden was instumental in founding grants that came out of the Southern Education and  Recreation Association.