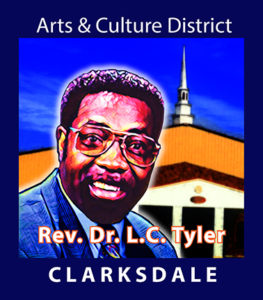 Reverend L. C. Tyler, Sr., was a known and respected Clarksdale religious and secular leader. He was a former pastor of a half-dozen local churches and congregations, including the Union Grove Missionary Baptist Church.  He was also a devoted civic and civil rights leader throughout his community.
L.C. was born in Clarkdale.  He attended schools here, graduated from Coahoma Agricultural High School, and attended both Coahoma Community College, and Mississippi Valley State University. After receiving his call to the ministry, he received a Master of Theology and Doctor of Divinity Degree from Cambridge Theological Seminary.
He served his country in the U.S. Army, and after his discharge, he worked at the Mississippi State Penitentiary and at Coahoma Community College.  He also was a spiritual counselor for several local hospices.
Among his other pastoral community services, he participated in the Community Thanksgiving Program involving churches of all denominations. He was one of the local religious leaders that helped coordinate a city-wide day of prayer and fasting to coincide with the May National Day of Prayer.  He also supported the city's Church Softball League with Union Grove Missionary Baptist Church becoming one of the first black churches to join the league.  L.C. also sponsored an annual church picnic for senior citizens.
His secular leadership includes membership on Coahoma County Tourism Committee, board membership of Coahoma Opportunities, Inc., board membership of Delta Burial Corporation, and the Clarksdale-Coahoma County Joint Planning Commission.  L.C. was also a member of the NAACP where he received a 2006 Man of Distinction NAACP Freedom Fund Honor.  He also received Honorable recognition in the annual Clarksdale Press Register's Reader Poll.
L.C. gave financial support to the Clarksdale High School Boy's and Girl's basketball and track teams, to the Oakhurst Middle School boy's and girl's basketball teams, and neighborhood children.  He established a youth training program at Union Grove Missionary Baptist Church and later established a scholars program to recognize the honor roll achieving.
L.C. also helped people in need who were facing foreclosures, past due rent notices, utility bills, and healthcare costs.  He was especially noted for giving weddings, pre-marital counseling, helping the homeless, and assisting families of homicide victims.
Rev. Tyler was married and the father of four children.
Sign location:  Martin Luther King Blvd.
Sign Production:  digital art by Richard Bolen
Source image: photograph from L.C. Tyler family