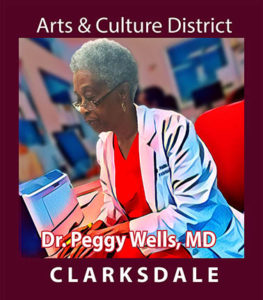 Mississippi Delta native, Peggy Wells Howard brings more than 40 years of benevolence, evangelism, and dedication to her career as a pediatrician.  Her background reflects an inspiring yet pragmatic history here in Clarksdale mainly at The Children's Clinic of Clarksdale and Northwest Regional Medical Center.
Before laying a foundation for her legacy, she was born Peggy Jean Johnson to Ms. Ruby Juanita Johnson during the winter of 1948.  She is married to Roosevelt Howard and together they share a blended family of 3 sons, 3 daughters, and 13 grandchildren. She has 6 siblings of whom are sparingly placed from the east coast to the southern Great Plains.
Dr. Wells attended Simmons Elementary and High School in Hollandale, Mississippi.  She is a proud alumna of Tougaloo College and the University of Mississippi School of Medicine; graduating with honors from both institutions.  She was the first black female to graduate from the University of Mississippi School of Medicine and in the Department of Pediatrics.
Dr. Wells and partner, Dr. Carole Mangrem were recruited in 1978 by the late Dr. Henry McCrory to Clarksdale to provide newborn high-risk care, thus establishing "The Children's Clinic" as the only Black/White partnership-practice in the state of Mississippi.
One of her most notable professional contributions has been serving as a member of the advisory board for the organization and development of the Children's Health Insurance Program, better known as CHIP.  She has been recognized an infinite number of times for her service to her community by professional, civic and Christian organizations.  Her service extends beyond the state of Mississippi and spans generations.
She is a member of Kings Temple Missionary Baptist Church where she actively contributes to the Education Ministry and teaches Sunday school.  She is a firm believer in literacy, is an advocate for cultural exposure and knowledge of one's own heritage, and a mentor who encourages hands-on learning.  Her favorite quotes are "He goes before you" and "This too shall pass."
Sign location:  100 block of Yazoo
Sign production:  digital art by Richard Bolen
Source image:  photo from Raquel Wells